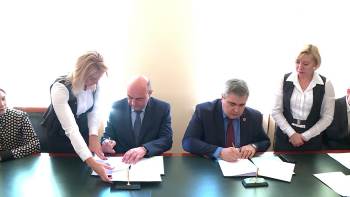 Social and Economic Cooperation Agreement of 2018
On January 24, 2018 the Social and Economic Cooperation Agreement between the Administration of the Kemerovo region and LLC "MC "Taldinskaya" was signed.
The subject of the Agreement is a cooperation which is aimed to increase the importance of enterprises located on the territory of the Kemerovo region, which have a great influence on the social and economic development of the region. The documents were signed by First Deputy Governor of the Kemerovo Region Vladimir Nikolaevich Chernov and General Director of the Taldinskaya MC Vladimir Sheptun. During the signing the parties underlined that the holding and the Administration have entered into this agreement since 2009, and all this time the company fulfills all its obligations fully.
As part of the Agreement the Taldinskaya MC took responsibility to provide funding for social protection programs for workers and pensioners in the amount of 53.2 million rubles. In 2018, the company plans to spend 33 million rubles on social activities of the Kemerovo region, as well as to allocate 53.6 thousand tons of coal for public utilities needs of the region.
In 2018 the Taldinskaya MC approved an investment program for the development of the group's enterprises. Funds will be used to modernize production, ensure safe working conditions, purchase modern mining equipment, and also to the first stage of construction of a new high-tech concentrator in the amount of 2.8 billion rubles.
By the end of 2017 the company increased production from 3 million tons to 4.5 million tons of coal per year. And in 2018 it plans to keep production on the level of 4.5 million tons.