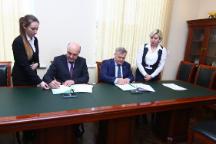 THE TALDINSKAYA MINING COMPANY TAKES PART IN SOCIAL AND ECONOMIC DEVELOPMENT OF KEMEROVO REGION
On 20 March 2019 LLC "Managing Company "Taldinskaya" signed ordinary social and economic cooperation agreement with Kemerovo region. On the part of regional government the document was signed by Vyacheslav Telegin and on the part of LLC "Managing Company "Taldinskaya" – Vladimir Sheptun. Parties stated that LLC "MC "Taldinskaya" fulfilled all social and economic obligations, which were established in previous year, in full. Particularly, according to outcomes of 2018 year the company transferred money above 3 billion rubles to the all levels budgets. It was a record for the company, considering 2017 year, when the overall tax amount was 2 billion rubles.
Annually the Taldinskaya Mining Company contributes in welfare forming and social development of Kuzbas.  In 2018 the company sent 33 mln. rubles to social support program implementation. In this year the financing of such programmes will increase to 36,5 mln rubles. The company actively participates in region social programmes and directs funds to charity.